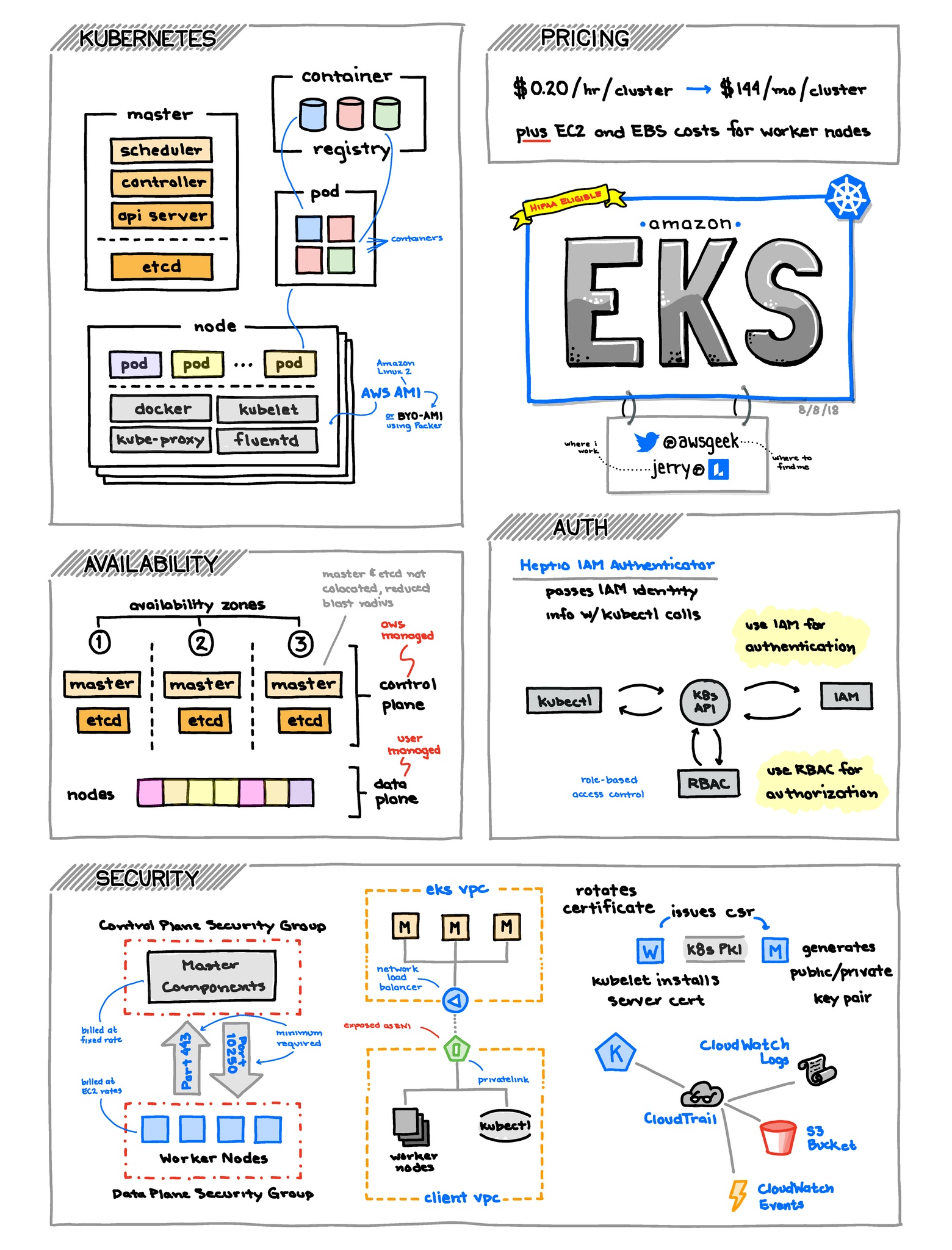 Image from @awsgeek
Elastic Container Service for Kubernetes
EKS Basics
📒 Homepage ∙ User guide ∙ FAQ ∙ Pricing
EKS (Elastic Kubernetes Service) is a new service (launched June 2018) that provides managed Kubernetes Masters in a Highly Available pair to deploy K8s Services and Pods on top of EC2 based Kubernetes nodes.
See the Containers and AWS section for more context on containers.
EKS is AWS's solution to hosting Kubernetes natively on AWS. It is not a replacement for ECS directly but is in response to the large market dominance of Kubernetes.
EKS does not launch EC2 nodes and would have to be configured and setup either manually or via Cloudformation (or other automation solution)
EKS management is done through a utility called kubectl, and with Kube configuration files. These files will need to be configured to speak with the K8s Master with a certificate and URL. The AWS CLI can autogenerate the configuration file that kubect requires for communicating with the cluster.1
EKS authentication is integrated with IAM roles/permissions. The AWS CLI has an integrated sub-command for generating authentication tokens.2 This was formerly done via a custom plugin for kubectl called aws-iam-authenticator (formerly heptio-authenticator-aws).
EKS provides Calico from Tigera for securing workloads within a cluster using Kubernetes network policy.
EKS Tips
Multiple clusters can be supported by using different kubeconfig files.
AWS has a Kubernetes Quickstart developed in collaboration with Heptio.
EKS Alternatives and Lock-in
ECS: Amazon's native Container Scheduled platform released in 2014. If you don't utilise containers today and are looking to get started, ECS is an excellent product.
Kubernetes: Extensive container platform. Available as a hosted solution on Google Cloud, AWS, Digital Ocean and Azure.
Nomad: Orchestrator/Scheduler, tightly integrated in the HashiCorp stack (Consul, Vault, etc).
EKS Gotchas and Limitations
Pods and Service configurations can rapidly consume IP addresses inside a VPC. Proper care and maintenance should be applied to ensure IP exhaustion does not occur.
There is currently no integrated monitoring in CloudWatch for EKS pods or services, you will need to deploy a monitoring system that supports Kubernetes such as Prometheus.
Autoscaling based off CPU/Memory of a node is limited as you will not be aware of pending Services/Pods that cannot start. Using cluster-autoscaler can be useful for scaling based on Node resource usage and unschedulable Pods.
Prometheus is a very popular monitoring solution for K8s, metrics and alerts can be used to send events to Lambda, SQS or other solutions to take autoscaling actions.
Footnotes

1: https://docs.aws.amazon.com/eks/latest/userguide/create-kubeconfig.html
2: https://aws.amazon.com/about-aws/whats-new/2019/05/amazon-eks-simplifies-kubernetes-cluster-authentication/